Pauline Pozar Isakson
Born 1915 passed away 1981
---
From Judith:
We too spent our summer vacations with her, Paula, and sweet Sophie. I still treasure my memories of those summers. Picking raspberries in her garden. Always having a fresh lamb dinner with all the fixings around the big oak table. Playing for hours on the swing hanging from the beautiful Oak tree. I can go on and on. She is still so dear to me, and I miss those carefree days. She always made it known how much she loved each of us!
From Pat:
Hi Kim,
I had a little spare time and decided to go into your Pozar website. I just read you feelings on Aunt Polly and had tears in my eyes and a lump in my throat. From the first time I met her, I felt the same. She was always so happy to have our little family come to visit and made us feel so welcome. Susan, Steve and then Shawn, when he came along, always loved going to visit, because she made it so special. Aunt Polly made the first "hobo coffee" that I had seen or tasted, along with all those eggs simmering in a big frypan of bacon grease, that tasted so good. Her raspberry jam, her wonderful pies. I still put the one big goose egg and duck egg in the big basket of special eggs, every Easter. She had blown them out carefully and put a bit of light coloring on them. After Easter, each year, I pack them in containers so they will stay unbroken until the following year. I could go on and on, but will just say she was one of my favorite people and will always remain one of my special memories.
Love, Pat
KimMarie's thoughts:
Aunt Polly always gave Timmy and I a place to stay in the summer where Mom and Dad didn't worry about us.
It was a great place to visit, with ducks and sheep and cats and dogs.
Aunt Polly was the one person in the world I wanted to grow up to be, loving, irreverent, outdoorsy and funny.
Her smile was catching and she had tiny wrinkles all over her arms.
I know I finally have the tiny wrinkles...I hope I have the rest.
I Love You, Aunt Polly!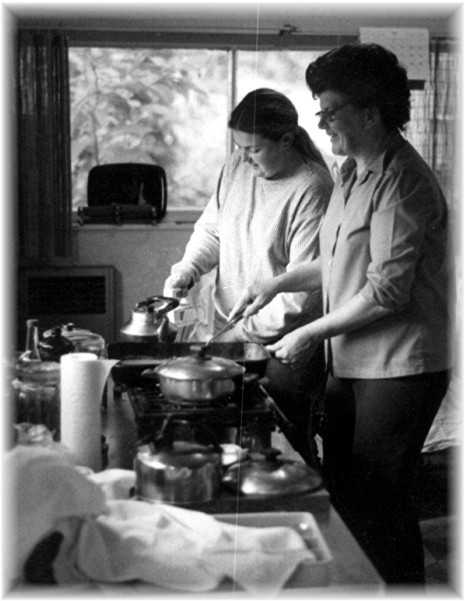 Photo by: Timothy Milan Pozar
Paula and Polly cooking on the back porch
To this day we all miss Aunt Polly's Specialities,
Boiled Coffee
Slovenian Green beans
Fresh Lamb
Sourdough Bread
and for Desert: Runny Berry Pie
When I was small, I remember the old wood stove in the Kitchen and the smell of the fire.

Polly was known for her menagerie of animals,
the pet chicken named poopsie,
the geese, Lucifer and Loosasa
and the numerous orphaned sheep that came into the house to be fed.
The cats were everywhere,
I remember; Puff and Bloody Mary.
I still have the scars on my chest from trying to hold a half wild cat in my arms when I was about nine years old.

---
This page was written in HTML as an example for my students.
If you are interested in beginning lessons in HTML, see About Us page.